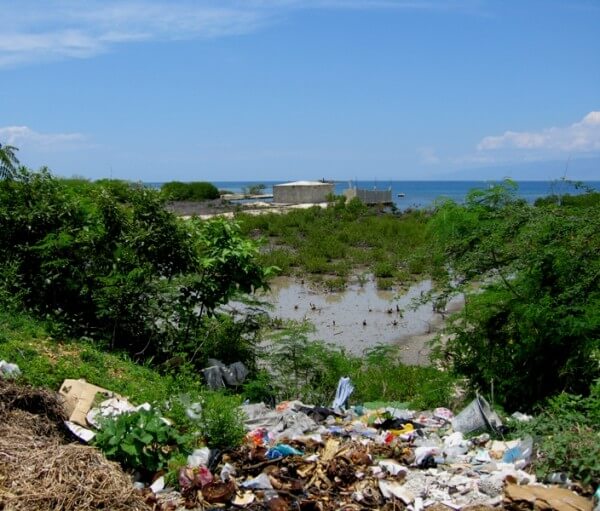 Haiti's government has announced a ban on importing, manufacturing and marketing polyethylene and polystyrene products as of Oct. 1 due to plastic and foam containers littering the country and hurting the ocean wildlife.
Prime Minister Laurent Lamothe claims the crackdown is aimed at protecting Haiti's coastlines, shores and its mangroves. The Miami Herald reports that "he acknowledges that the country has "a massive garbage issue" and environmentally toxic material clogs '95 percent of our sewage system, creating mass floods in poor neighborhoods… that is costing the state more than $50 million a year if we had the means to clean up.'"
"This is a logical decision and makes sense," Lamothe told The Miami Herald. "Importing, manufacturing bio-degradable items will benefit Haiti's short, mid- and long-term environmental interest."
The environmental benefits of a plastic ban are undeniable: Plastic is non-biodegradable; the chemicals added to plastics are absorbed by human bodies and accidentally ingested by wildlife and marine animals; floating plastic breaks down into small pieces and litters the ocean and water; and producing more plastic drains a lot of energy and resources.
Haiti isn't the first country to attempt banning plastic and foam products. In 2008, Rwanda became the first country to ban all plastics. Mexico City, Bangladesh, and Toronto followed suit by imposing bans and Argentina is now calling for all supermarkets to eliminate non-biodegradable plastic bags by October 2014.
The real question now is: Will this ban work? Imposing a ban is idealistic and merely the first step to a better environment and cleaner habitat. But taking the appropriate measures to ensure the ban is in place is the only way it can be successful. After all, there is historical precedent of plastic bag bans that have failed due to authorities not adequately implementing the law.
In 2009, Delhi banned plastic shopping bags but officials failed to enforce the ban. A senior government official explained to The Times of India why the prior ban failed: "The 2009 ban did not do too well since the crackdown on violations was poor. Although a number of agencies had been authorized to take action, only the Delhi Pollution Control Committee (DPCC) carried out raids. With plastic bags proliferating in the city, this action was just not sufficient." The same dilemma will most likely be faced by the Haitians who will have difficulty policing the ban.
What's more, in Haiti, black plastic bags are used amongst the poor to transport items and plastics are key for curbside cooking. Environmentalists and Haitians have rightfully pointed out that the only way this pan can be successful is if a viable alternative to plastics and foams will be provided to the people.
Photo by MichelleWalz
Tags: ban Haiti plastic bags