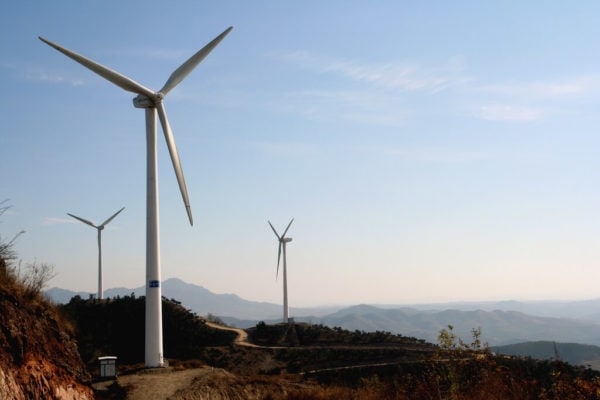 There are reports that China is ordering its biggest electricity distributors to source up to 15 per cent of their power from renewable energy, including wind. And while this may seem like a quick boost for the wind power industry, many wind executives say it could be years before they see any payoff.
According to Reuters, China currently has a pricing policy that makes selling wind power and other renewables (like solar energy) unprofitable. And unless this model undergoes reform, many wind power developers will continue to struggle.
China is home to the world's largest wind power capacity. However, a third of it reportedly sits idle because renewable energy is a money-losing business for grid operators. As a result, China struggles to transmit electricity from generating zones in the northwest, north and northeast to population hubs in the south and east.
"With the roll-out of the quota system and acceleration of grid construction, the problem of distributors holding back on wind power purchases will ease," Hu Yongsheng, president of China Datang Corp Renewable Power Co Ltd., told Reuters.
Meanwhile, Chinese wind power developers posted worse-than-expected results for the first half of 2012. And grid power operators are increasingly reluctant to distribute the costly and unpredictable source of power, amid a sharp economic downturn.
Joseph Jacobelli is an independent energy analyst who was formerly head of global cleantech research at HSBC Holdings PLC. He told Reuters, "Renewables should boom in China in two to three years but not now. The key barrier is the current tariff-setting mechanism gives no commercial incentive whatsoever to the grids to connect and dispatch renewables."
Jacobelli also added that it would take China several years to build ultra high-voltage lines needed to deliver the power produced at remote wind farms to users in the south and on the coast.
The government subsidizes grid firms for selling renewable energy. This is all in an effort to help shift China away from coal pollution. But the subsidies are apparently not enough for them to make a profit.
China has always wanted to cut its heavy reliance on coal. And to do so, it has reportedly poured tens of billions of dollars into wind and solar farms over the last few years to boost renewable use to 9.5 percent of total energy consumption by 2015. Currently, more than 70 percent of the country's electricity is produced by coal-fired power stations.
China's goal is to expand its installed wind power generating capacity to 100 gigawatts (GW) by 2015 and to 200 GW by 2020. The country currently has 62 GW of capacity. That's enough to light up all of Australia.
Photo by Land Rover Our Planet
Tags: china wind energy