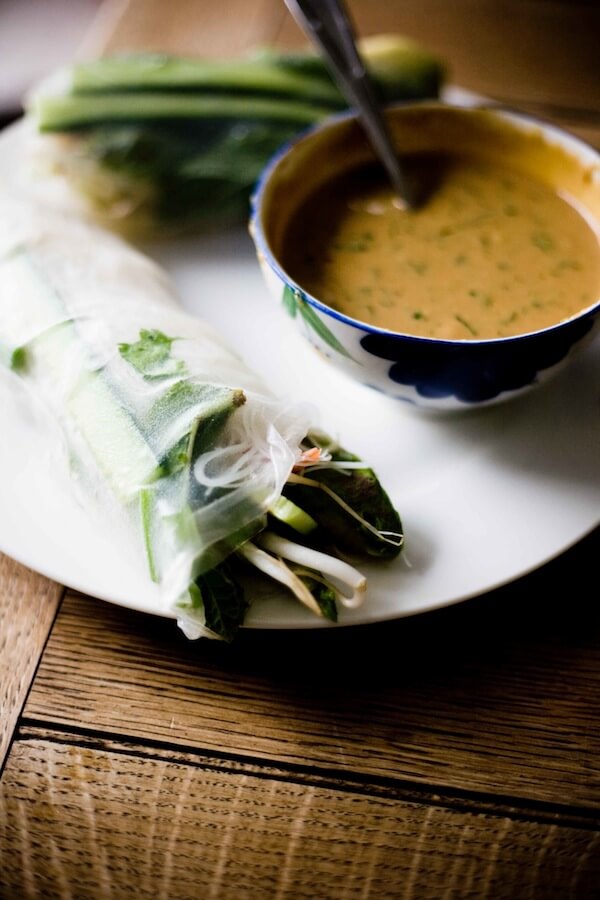 A thin layer of sweet rice paper wraps around a cornucopia of fresh flavors and textures in these wraps. The healthy cousin of the spring roll, a variety of extra ingredients can be added to personalize each wrap according to taste. For those who love spicy foods, add a drizzle of sambal oelek, and for those who want more tang, drizzle rice vinegar over the contents before wrapping them into a pocket bursting with flavor. For vegetarians and vegans, omit the prawns.
Ingredients
1 package rice wrapping paper
1 cup cooked prawns, sliced lengthwise in half
1 English cucumber, julienned
1 cup bean sprouts
¼ cup mint leaves
¼ cup fresh cilantro, roughly chopped
2 cups rice vermicelli

Lime Peanut Sauce

½ cup creamy peanut butter
¼ cup rice vinegar
½ tsp red pepper flakes
1 tbl fish sauce (for vegetarians, substitute this with soy sauce)
1 tsp soy sauce
2 limes, juiced and zested
4 kaffir lime leaves, minced
1 tsp fresh ginger, minced
2 cloves garlic, minced
Instructions
1. For the sauce: blend all ingredients together until completely combined and smooth. Serve alongside the wraps.
2. Bring water to boil in a large pot. Remove from heat and add the rice vermicelli. Allow to sit for 2 to 3 minutes, or until the pasta is done. Pour into a colander and run cold water over the noodles. Shake off any excess water, if possible.
3. Heat water to warm in the same large pot. Insert a rice paper piece and keep it in the water until pliable, ensuring it does not fold in on itself, for about 30 seconds to 1 minute (depending on the heat of the water).
4. Remove the rice paper piece, keeping it from folding by holding it between two hands. Shake as much water as possible from it before placing it on a plate.
5. Place the desired filling ingredients in the middle, in a line that ends ½ inch from the edge of the paper. The standard is a handful of cucumber, bean sprouts, and vermicelli with a sprinkle of mint leaves and cilantro on top. Set the prawns, one deep, over the ingredients.
6. Bring the edges, at each end of the line, inwards towards the middle. Take the long edge, closest to yourself and fold it over the filling, drawing it towards you slightly as you do to compress the filling. Keeping a tight grip, roll the rice wrap away from yourself, making it as tight as possible and pressing down the seams when done.
7. Repeat steps 3 to 6 as desired to make the desired amount of rolls. Serve the rolls with dipping sauce.
Nutritional Information
Calories: 488.4
Total Fat: 17.6g
Carbohydrate: 62.9g
Protein: 21.5g

http://www.greenerideal.com/lifestyle/vietnamese-rice-wraps-recipe/
Tags: recipe rice vietnamese wraps