Eco living is not just a popular catch-phrase anymore. Budgeting these days has become a necessity for a lot of people. Recycling and living on less were considered to be the practices of low-income persons and baby boomers approaching retirement but this way of living is quickly becoming the norm for many average working families these days due to the rising costs of the economy. Going green is beneficial for two reasons; one it helps improve the environment, and two it saves money. Here are some tips for eco living that saves the earth and puts more money back into the pockets of consumers.
Buy from Farmer's Markets to Save Money on Organic Food
Organic food is one area of spending that can be costly depending on where consumers shop. National food chains capitalize on the public's need for fresh, chemical-free produce and meat. While shopping in these stores is very trendy, many consumers may not see the need to spend so much money when produce and grass-fed beef can be obtained for less by shopping at a local farmer's market or food co-op.
Save on Baby Items
Many celebrity moms use eco-friendly disposable diapers like Seventh Generation and reusable cloth diapers from gDiapers. Buying gently-used clothing, bedding and nursery furniture through thrift stores and online bidding sites saves money and is a good way to recycle no-longer-needed items.
Get a bike
One excellent way to practice eco living is to stop polluting the environment with gas fumes. Biking is a very popular and cheap form of transportation. The initial cost of the bike is really the only expense besides regular maintenance and periodic upkeep. Riding a bicycle to work saves gas and may even cut down on commuting times due to the ease of using alternative routes for bikes. For those who live too far away to bike, carpooling is an alternative that is still cost-effective and promotes less pollution.
Buy Recycled Goods
Consignment shops are a great source of recycled goods for a fraction of the cost. Baby and children's clothes, nursery items, strollers and car seats in excellent condition can be used for many years to come or passed on to someone else when the child outgrows it.
Eco Living through Attachment Parenting
Attachment Parenting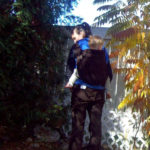 This method of child-rearing is gaining popularity with many eco-conscious people as a way of providing children with the nurturing required to raise a loving child and reducing the need to buy expensive baby gear. The process involves baby wearing and co-sleeping as well as positive parenting skills to raise a happy, healthy child. Baby wearing is the technique of carrying the baby in a sling or wrap while performing household chores, grocery shopping and many other daily activities. Carrying the baby close to the body promotes bonding and makes breastfeeding easy and accessible; it also allows the mother to carry on with her activities while the baby naps.
Co-Sleeping
This practice is advocated by pediatrician Dr. William Sears as safe and beneficial to babies and mothers. Many experts say that the safest place for a child is in his or her own bed, but breastfeeding and co-sleeping have decreased the number of incidents of SIDS.  Co-sleeping encourages breastfeeding, promotes bonding and enables parents to get much needed sleep during the infancy stage. Co-sleepers fit right next to the parent's bed for ease of night time feedings and as the child gets older he or she can transition to bed-sharing without the need for cribs or playpens.
Eco living celebrities who practice attachment parenting include: Angelina Jolie, Julia Roberts and Gwen Stefani.
Banner photo: via Natalie Maynor
Attachment parenting: via HealthHomeHappy
Tags: eco living organic parents