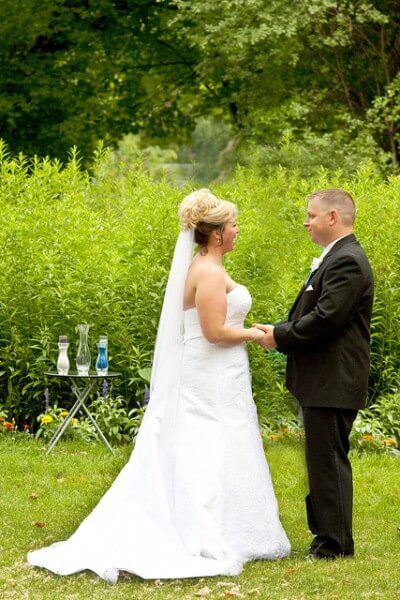 Image by: Jana Rosenkranz
It seems as if every year the trend in weddings seems to be "bigger and better" – brides-to-be are spending more and more money, inviting more and more guests, and being more and more extravagant. The average cost of a wedding has soared by $8,000 in the last ten years to almost $27,000.
However, a bridal backlash is starting. Couples are asking why they should be spending this extortionate amount of money on just one day, and also considering the fact that it's not only money they're wasting. It's not just the dress that is used once; it's the decorations, the invitations, the flowers, and sometimes even the tableware!
So, if you're interested in making your wedding a greener affair, here's how to go about it:
1. Size
Simply, the bigger your wedding, the more environmental impact it will have, so why not have an intimate affair of just immediate family and close friends? Aim to have no more than 50 guests, and this will also help to reduce the "if we invite this person then we have to invite that person…" cycle.
2. A Green Venue
There are more and more green hotels appearing across the world, though they do tend to be more costly than less eco-friendly indoor spaces. Think about holding an outdoor wedding – a stunning setting means you don't need to worry about decor, and if you're looking to really save money, see if it's possible to hold the ceremony in your or your parent's garden.
3. Transportation
If you can, try to hold the ceremony and the reception in close proximity so guests don't have to drive from place to place. Encourage a car pooling scheme to make sure no one is driving to your wedding alone, or suggest using public transport to reach the venue. Think about hiring a horse and carriage to get you to the venue to cut down further on carbon emissions whilst adding a romantic touch.
4. Invitations
Paper invitations are fairly wasteful, and can be very expensive if you're using a professional printing company. Why not try e-invitations, or creating your own wedding website with all the details needed and an RSVP function – you can design it around pictures and memories of you and your partner for a truly unique site.
5. Flowers
For your bridal bouquets, try to use seasonal, locally grown flowers that have not been chemically treated – there are many florists that now offer green options and will discuss these with you if you ask.
6. The Dress
There are a few options you have when deciding to be more eco-friendly with your bridal wear: get a dress designed in an eco-friendly fabric, buy second hand, or rent one. Renting can really save you money, but if you want something a bit more special, there are many online stores like Oxfam that specialise in used dresses which can be altered to suit you (remember, they've only been worn once!). You can use the same methods for the groom and the rest of the bridal party.
7. Gifts
Instead of simply registering for gifts, try to create your own wishlist of eco-friendly gifts you would like – which is really simple to do if you've created your own wedding website. You could also try asking for donations towards your honeymoon using an online cash registry site to avoid ending up with tons of crockery you just don't need, or even ask guests to donate to your favourite charity.
8. Decorations
Go as minimal as you can with decorations – for example, don't worry about chair covers, aisle runners or fussy table additions. Use natural materials as centrepieces, for example small potted plants that can be taken home and enjoyed long after your day is over, or edible centrepieces such as bowls of fruit.
9. Food and Drink
Try to make sure all of your food is organic and locally sourced, and that meat and eggs are free-range. To cut down on costs, forget about using a caterer and ask your family and friends to pitch in instead – most people will appreciate a selection of hearty home-cooked dishes over a posh sit-down meal in any case! Serve jugs of tap water over bottled water, and go for a sustainable alcohol option.
10. Minimise Electricity
Try dimming the lights and using candles as your predominate lighting source. If you have a winter wedding, how about creating upcycled glass jar candle holders, which you can send your guests home with as Christmas gifts? At outdoor weddings, avoid using patio heaters and go for a bonfire – supply marshmallows and you're guaranteed a great night!
Do you have any more tips on how to plan an eco-friendly wedding?
---
Elise Leveque is a bride-to-be who is trying to plan an eco-chic wedding on a budget! She also blogs, and currently writes for Goodheart Gifts.
Tags: eco friendly wedding eco wedding environmentally friendly wedding green wedding