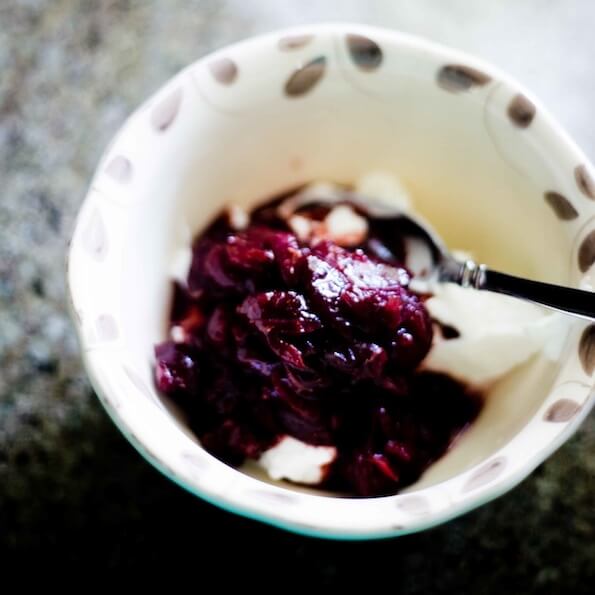 The Okanagan is known for its succulent fruit, causing juice to run down a chin with every bite and a sweetness that lingers long after pits or cores are discarded. Buy this local bounty rather than fruit from the states to both experience its flavorful delights as well as reduce your carbon footprint. As the growing season is so short, one means of lengthening your usage of local fruits is to create preserves. This chutney can accompany a variety of dishes – spooned on to curries, marinating meats, or mixed with mayo to become a burger condiment.
Ingredients
2 cups red currants
¼ cup water
2 cups cherries, pitted
1 white onion, diced
2 cloves garlic, minced
1/8 cup candied ginger, minced
1 pinch nutmeg
1 pinch cinnamon
1 pinch cloves
1 cup apple cider vinegar
2 cups brown sugar, lightly packed
salt, to taste
Instructions
Combine the red currents and water in a medium saucepan. Set it to medium heat and let it simmer for 20 minutes, or the fruit has become mushy and flesh separates from the seeds. Remove and pour into a sieve placed over a bowl. Push as much liquid and flesh through as possible, while the seeds remain in the sieve. Rinse out the saucepan and pour the seeded current mixture in to it.
Add the rest of the ingredients to the saucepan. Stir thoroughly and turn to medium heat. Simmer for 30 to 40 minutes, or until it is reduced almost by half and has become thick and fragrant.
Remove from heat and can the mixture or freeze for future use.
Nutritional Information
Calories: 145
Total Fat: 0g
Cholesterol: 0g
Potassium: 245mg
Carbohydrates: 46g
Protein: 0.5g
http://www.greenerideal.com/lifestyle/0807-cherry-chutney-recipe/
Tags: cherries chutney recipe