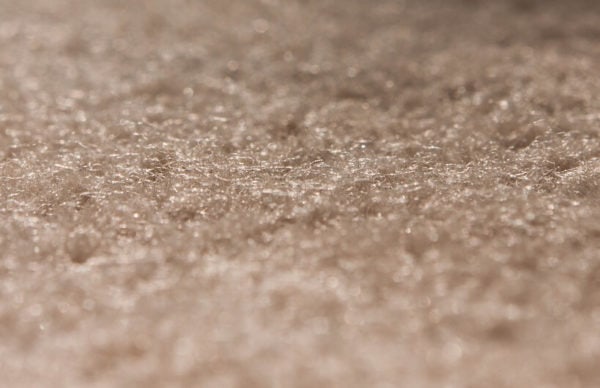 There's nothing quite like the luxurious feel of clean carpet beneath your feet. However, if not done properly, carpet cleaning can become an assault both on the environment and on the health of everyone in your home. It doesn't have to be this way, though! Listed below are five key ways to make cleaning your house's carpets a much more eco-friendly affair. Read on:
Vacuum
Carpeting is an attractive environment for health hazards such as dust, mold, pet dander and other allergens. Not only that, some carpets made with synthetic weaves give off volatile organic compounds (VOCs) which can pose both short and long-term health risks. Luckily, the first step in removing these undesirables is easy: vacuum your carpet. Vacuuming your carpet on a regular basis will go a long way toward keeping your home healthy and clean.
Your vacuum cleaner and a box of baking soda form a great team when it comes to freshening up your carpet and the room your carpet is in. Try lightly sprinkling baking soda on your carpet, wait about 10 minutes, then proceed to vacuum. You carpet will be clean and deodorized:  not a bad combo!
Spot clean
Sometimes vacuuming alone just isn't enough. While deep cleaning your carpet on a regular basis isn't usually feasible, spot cleaning, however, is very feasible. Spot cleaning is a great way to keep your carpet looking new and in good condition. Even better is that there are an extensive variety of green spot cleaning solutions waiting right in your pantry.
Treat carpet stains by spraying a solution of equal parts vinegar and water. Let sit for several minutes before cleaning with a brush. If necessary, use a sponge with warm soapy water to remove any remaining stain.
Treat fresh grease stains by sprinkling corn starch on them. Wait about half an hour then vacuum.
Club soda also works extremely well on fresh stains such as coffee and wine. Simply apply club soda to the stain, wait a minute or two, then blot – don't rub – with a clean white cloth.
Deep clean stubborn spots with a paste made of equal parts salt, borax and vinegar. Apply the paste to the stain and leave until dry, then vacuum.
Steam clean
When steam cleaning your carpet, it's important to avoid using any chemicals. If you own the steamer you can use either equal parts distilled white vinegar and water, or plain water by itself. Either way will result in a clean and chemical-free carpet.
If you rent a steam cleaner, be sure to first rinse out the cleaning chamber with warm water to remove any potential chemical residue from prior uses.
Buy green
If you don't feel like mixing your own carpet cleaning solutions, there are plenty of store-bought options. In this day and age, a large range of eco-friendly cleaning supplies is available for your purchase. A quick online search reveals several lines of products designed to clean effectively and tread lightly on the environment. Even notable big-name brands are joining the environmental movement with specially formulated green product lines making green carpet care easier than ever. 
Get professional help! Many professional carpet cleaning services claim to be green and use environmentally friendly products. Unfortunately, those claims aren't always accurate. However, there are questions you can ask to help determine whether or not a professional carpet cleaner really is as green as they say they are. The two most important questions are:
Are your cleaning solutions chemical-based or plant-based? A truly green service will be using plant-based cleaners. The chemicals commonly used in commercial carpet cleaners not only are bad for your health, they can also pollute the groundwater if not handled and disposed of properly which leads to the second question:
How do you transport and treat your waste water? The service should be able to tell you exactly what their process is.
If the cleaning service can't answer either of those questions, then it's time to look for another service. Dry carpet cleaning is an alternative method gaining popularity and as its name indicates, very little water or moisture is used in the cleaning process. While there are a growing number of green dry carpet cleaning services, many dry carpet cleaning services use a chemical process. Be sure to ask which the company uses before choosing a service.
With the available options at your fingertips, there's no real reason not to go green, while you keep your carpet clean.
---
This article was written by Christopher Brakoli. Brakoli is an environmental consultant who works with organizations running the gamut from huge corporations to mom-and-pop businesses. No matter who he finds himself professionally dealing with, though, rest assured:  Brakoli is devoted to protecting the planet in any method he can. He lives in Arkansas with his family and two dogs. 
Tags: carpet cleaning cleaning