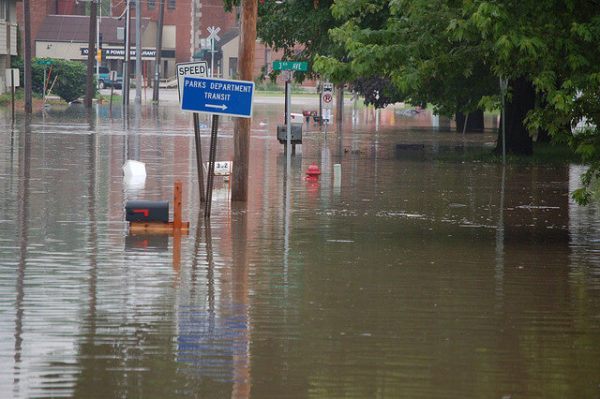 With the recent floods experienced in Wales and parts of England in recent weeks, more families understand the importance of a good flood plan.  Floods are unexpected and often a result of rivers and canals bursting their banks due to the high volumes of water, while this cannot be stopped, there are preparations you can make to ensure your family is safe.
Even though only Wales and parts of England were affected by extreme weather recently, there is nothing to say that the next rainfall won't target your home area. It is a scary reality that many holiday goers understood for the first time after being airlifted from their caravans and holiday homes in Wales, due to the water getting too high too quickly.
A Flood Kit
It's always a good idea if you are in an area prone to flooding to keep a flood kit available. Keep this in an accessible place so should the water rise suddenly, you can grab it and get to higher ground. The kit should include the basics such as drinking water, energy bars, a torch and some basic clothing.
When it comes to floods the emergency services are juggling hundreds of people that are stranded and you may not be rescued for some time, so being prepared can ensure you remain healthy and alert while you wait.
Where to Go
Have an escape route in your home, whether it's an access door onto the roof or a way onto higher ground from the yard. Make sure the entire family is aware of your route and paste it in a place that everyone can see it regularly.
Have a plan in mind should this happen again, prepare younger children and explain to them why you are making a flood kit and escape route, make sure they understand the importance that should you call, they come running.
Getting Out
In some cases people were trapped in their homes with the recent floods, this was seen with the holiday makers who couldn't escape from their static caravans, some managed to get to the roof and wait, while many stood knee deep in water.
Knowing your home or your holiday home and putting an escape route in place is essential, especially with the unpredictable weather we have been having. Going on holiday is exciting for the whole family, but if you get in the habit of taking note on arrival, seeing how you can get to higher ground and ensuring everyone knows the escape route, you reduce the risk of serious problems should another flood arrive unexpectedly.
Pets
When floods hit, people panic, they grab their families and run as fast as they can and you can't blame them, you can't fight with nature and it's going to take its course. The sad reality is that many animals get abandoned during these times and are left to survive on their own.
Have a pet recovery plan in place along with your family plan. Keeps a basket or crate near your flood kit enabling you to rescue your pet at the same time as your family, this will not only give you peace of mind, but will reduce the stress placed on rescue centres around the country.
Going Home
The worst thing after a flood is walking through your front door for the first time, it's devastating. It's an idea to have a family member in a nearby area willing to offer you accommodation while you sort out with the insurance company and start piecing your home back together.
Remember to phone the insurance company in the first instance, they should be your first call once you get to safety this will reduce the waiting time on claims.
---
Get a flood risk assessment carried out; this is important especially if you live in an area prone to flooding. This will advise authorities on planning needed to ensure that your home doesn't suffer again in the future. Photo by Elspeth and Evan
Tags: extreme weather flood flood plan