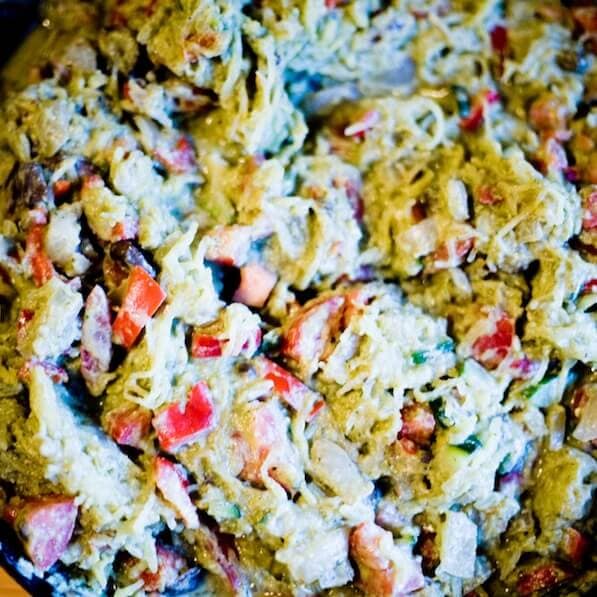 Incredibly healthy and intensely tasty, this dish is sensitive to those who are not only vegan, but also have wheat or lactose allergies. Through the use of soft tofu, creaminess and protein are provided without the need for high-fat cream or slices of meat. Spaghetti squash is used in lieu of wheat or rice pasta, adding a nutty flavor to the dish as well as a high amount of fiber.
Ingredients
1 large spaghetti squash, halved and seeds removed
3 cups basil leaves
5 cloves garlic, chopped
1 cup pine nuts
1 cup olive oil
1 tsp salt
1 tsp ground black pepper
1 lemon, zested and juiced
1 package soft tofu, blended
1 onion, chopped
1 cup mushrooms, sliced
1 red pepper, chopped
1 tomato, chopped
Instructions
Preheat the oven to 375 degrees Fahrenheit. Place the squash, hollowed side down on a baking tray and cut several slices in the top to allow steam to exit. Surround the squash with water and insert it in to the oven. Cook for 45 minutes to 1 hour or until the insides are easily scooped out and the skin is soft. Remove the squash and scoop out the insides in to a large bowl.
Blend the basil leaves, garlic, pine nuts, olive oil, salt, ground black pepper and lemon juice and zest together until smooth. Combine it with the blended tofu until evenly combined.
Place one tbl. of oil into a large, deep-bottomed frying pan. Toss the onion and mushrooms with the oil and set on medium-high heat. Cook for 3 to 5 minutes, or until caramelized. Add the red pepper and tomato and cook for 1 minute until sweating and slightly soft. Add the squash to the mixture, and toss until combined with the other vegetables. Pour the tofu pesto mixture and continue to toss until it is equally coating the vegetables. Serve hot and garnish with basil leaves.
Nutritional Information
Calories: 447.7
Total Fat: 42.5g
Sodium: 22.9mg
Carbohydrates: 12.7g
Protein: 9.4g
http://www.greenerideal.com/lifestyle/0528-creamy-vegan-pesto-spaghetti-squash-recipe/
Tags: food nutrition recipe squash