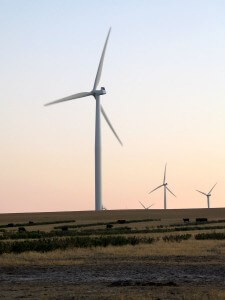 America's wind industry says it's reached a new milestone, following another quarter of rapid growth.
According to the American Wind Association (AWEA), the industry is now providing enough capacity to power 13 million homes. That's equivalent to all of Nevada, Colorado, Wisconsin, Virginia, Alabama, and Connecticut combined. The group highlighted this point at the annual National Clean Energy Summit in Las Vegas last week.
The trady body says the 50GW of capacity is equivalent to the generating power of 44 coal-fired power stations. Or 11 nuclear power plants. It says that's the same as taking 14 million cars off the road.
The milestone was achieved thanks to a surge in new wind farms. The spike happened as a result of developers rushing to complete projects before the possible demise of the U.S. government's production tax credit at the end of 2012. The AWEA says more than 2.8GW of capacity has been added so far this year. Meanwhile, total U.S. wind energy capacity has doubled since 2008.
Republican Senator Chuck Grassley helped develop the PTC. He says, "Wind energy has exceeded expectations since I first authored the tax incentive, in 1992, and offers an ideal for expanded production and use of alternative energy sources in the future."
Despite this reported success, many wind energy firms are becoming more concerned about the future of the tax incentive. That's because Republican Presidential candidate Mitt Romney confirmed that if elected, he would not extend the PTC when it lapses at the end of this year.
Denise Bode is chief executive of the AWEA. Bode says that because of the uncertainty of the tax credit, incoming orders for wind farms are winding down. She also says Congress must act now to give wind energy a stable business environment. Doing so would also save 37,000 American jobs by the first quarter of next year.
Photo by Fernando de Sousa
Tags: wind industry